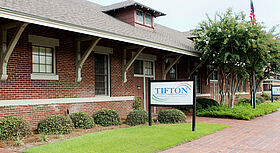 The Tifton-Tift County Chamber of Commerce is a membership-driven organization mission is to enhance the quality of life of our citizens by promoting community and economic development. Our focus is to enable businesses and individuals to work together and draw from the vast resources and talents of our community to create a vibrant and diverse economy.
The Tifton-Tift County Chamber will work to facilitate the growth of our existing businesses and industries while pursuing and welcoming new businesses, giving them the tools they need to grow and succeed.
We provide a variety of benefits to our members including referrals, networking events, discounts, exposure to the community and providing a voice to our local and state officials.