Tifton's climate makes it a great place to get outside and enjoy the great outdoors! We have well-equipped sports fields, championship golf courses and thriving youth sports organizations that bring lots of visitors to our area each year.
Tift County Recreation Department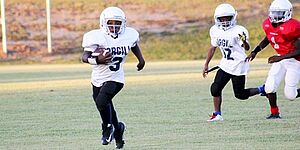 The Tift County Recreation Department has earned a reputation throughout the state for its quality youth programs and as a site for many regional and state tournaments. The department offers a variety of youth sports as well as fitness classes and senior activities. During the summer, many children take advantage of its summer day camp and each July, Tifton's Baldwin Pool is the site for the District 3 swimming tournament and the GRPA state swimming championships, which brings thousands of people to town.
The E.B. Hamilton Complex, Optimist Club Soccer Fields and Friendly City Park also host a variety of local and regional competitions throughout the year. For kids who love sports, Tifton is a great place to be!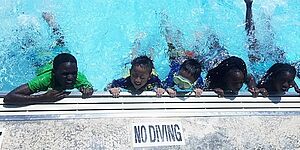 The Tiftarea YMCA began in 1998 and continues to grow physically as well as in the services that it offers to the region. The YMCA offers a variety of youth sports, swim lessons, fitness classes and a popular aquatic center. Also, a quarter-mile walking track was donated by American Textile Company behind the YMCA's Carpenter Road location in 2015 and it remains a popular venue for locals throughout the year.
Also, the YMCA hosts the popular Father-Daughter dance as well as the Mother-Son Date Night, the Polar Bear Plunge on New Year's Day to raise money for local charities, Healthy Kids Day, the Tour de Tifton bicycle ride and more. It also positively affects the lives of many local citizens with its outreach programs which include LiveSTRONG (a 12-week program for adult cancer survivors), Food for Thought (an afterschool program for students ages 5-13 at various sites around Tift County) and the Y Christmas program (which provides needy children in the area with Christmas gifts).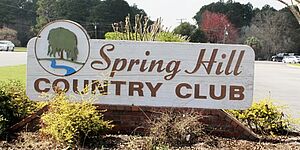 Officially formed in 1965, Spring Hill Country Club is home to an 18-hole golf course designed with narrow fairways that wind through woodland and small sand traps strategically placed to test control off the tees and through the fairways. The greens are purposefully small to require pinpoint accuracy in the approach game. It was built under the supervision and direction of Ray Jenson, who was at the forefront of turf development and built and seeded courses around the United States and in other countries as well. It spans approximately 150 acres a few miles west of Tifton and hosts competitive high school and junior tournaments as well as competitive play for its members and their guests. It is also the home course of Nanci Bowen, winner of the 1995 Dinah Shore LPGA Open and it hosts the Chamber Golf Classic each October.
The Golf Club of South Georgia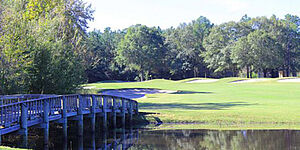 The Golf Club of South Georgia is located 10 miles north of Tifton and only two miles off of Interstate 75. Designed amongst a beautiful pecan orchard and sits on 397 acres of rolling hills overlooking Mar-Jan Lake. It opened for play in 1992 and also features a 50-station grass tee range and two practice greens. With a new clubhouse that opened in the fall of 2013, the club can also accommodate events including weddings, reunions and many other events.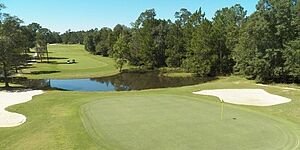 Owned and operated by Abraham Baldwin Agricultural College, Forest Lakes is a 9-hole course that plays 6,970 yards over 18 holes. The course is maintained by turfgrass students who use the facility as a learning lab for future employment in the turfgrass and golf course management industry.